Tai Chi for Seniors Windham, CT Classes
WED 9:00-10:00 or 1:00-2:00 Starts 09/27/17
FRI 9:00-10:00 or 1:00-2:00 Starts 09/29/17
For Additional Information: Kate Cox, Activities Director, Windham Senior Center: 860-423-4524,  kcox@windhamct.com.   47 Crescent Street Willimantic, Connecticut 06226 or Laddie Sacharko, Program Director/Instructor, Starfarm Tai Chi: 860 455 0353, laddie@starfarmtaiji.com.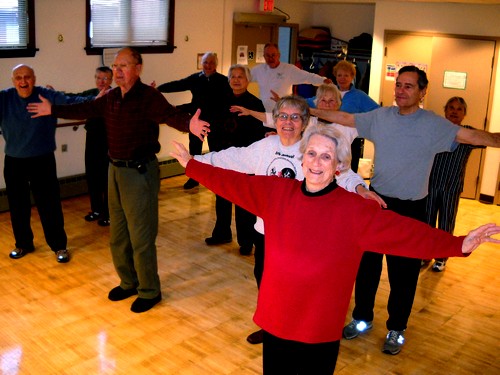 The "style"  or name of the tai chi used in this program is the CDC's Tai Chi Moving for Better Balance.  It will be led by a certified instructor.
This evidence based, therapeutic tai chi fall prevention program was developed by the CDC. It was proven through years of scientific research to reduce the rate of falls among older adults by 55%!  In its first update of the American Geriatrics Society and the British Geriatric Society's guidelines on preventing falls in older persons since 2001, this year AGS/BGS recommended "multifactorial interventions which include exercise for balance, gait and strength training, such as Tai Chi or physical therapy."
The  Tai Chi for Seniors Windham Classes will be offered 2 times weekly for 12 weeks. You may register for twice weekly for 12 weeks,  and you may register for 1 class weekly, "tai chi a la cart", or wellness program (does not meet requirements as  fall prevention activity; instead tai chi for seniors windham ct).
Part of the program protocol is  voluntary functional balance testing before and after training; participants will know exactly what their efforts have achieved, and can document for their Primary Care Provider the results of a formal fall prevention program.  Participants may elect to purchase a companion DVD, and/or guidebook.
Special Note: Tai Chi addresses the pain associated with arthritis and fibromyalgia, can be effective for persons with Parkinson's Disease, can improve mood and sleep disorder.  This program focuses on tai chi as fall prevention exercise.